Galtung, Johan
Johan Vincent Galtung
* 24.10.1930 in Oslo


Norwegischer Sozialwissenschaftler und einer der Gründerväter der Friedens- und Konfliktforschung, Inhaber des weltweit ersten Lehrstuhls für Konflikt- und Friedensforschung, Gründer des "International Peace Research Institute Oslo" (PRIO), des "Journal of Peace Research" sowie des TRANSCEND- Netzwerks für Frieden und Entwicklung, Beratungstätigkeit bei vielen Organisationen, insbesondere den Vereinten Nationen.

Galtung gilt als Pioneer in der Friedens- und Konfliktforschung. Er prägte die Disziplin nachhaltig mit dem Begriff der strukturellen Gewalt. Für seine wissenschaftlichen Beiträge und sein internationales Engagement für friedliche Konfliktlösungen erhielt er zahlreiche Auszeichnungen, darunter mehrere Ehrendoktorwürden. Neben hunderten von Veröffentlichungen, die in dutzende Sprachen übersetzt wurden, nahm er an vielen internationalen Friedenskonferenzen als Vermittler teil. Darüber hinaus forschte und lehrte er an renommierten Universitäten in der ganzen Welt.


Werdegang

1948–1957 Studium der Mathematik und Soziologie an der Universität Oslo
1957 Mag. art., Soziologie an der Universität Oslo
1957–1960 Juniorprofessur an der Columbia Universität, New York
1959 Gründung des International Peace Research Institute Oslo (PRIO); Direktor bis 1969
1962–1969 Studienaufenthalte als UNESCO-Professor in Santiago, Chile
1964 Gründung des Journal of Peace Research
1969–1977 Professor an der Universität Oslo (erster Inhaber des Lehrstuhls für Friedensforschung)
1973–1977 Generaldirektor am Inter-University Centre, Dubrovnik
1977–1981 Projektkoordinator der United Nations University, Genf und Tokyo
1982 Gujarat Vidyapith Universität in Ahmedabad, Indien
1984–1985 Rektor der Université Nouvelle Transnationale, Paris
seit 1987 Lehre an der Universität Hawaii
1993 Gründung des TRANSCEND-Netzwerks für Frieden und Entwicklung
2000 Mitbegründer des Nordic Institute for Peace Research (NIFF)
seit 2005 Lehre an der John Perkins University, Seattle


Honorarprofessuren

1981 Universität Alicante
1984 Freie Universität Berlin
1986 Sichuan Universität, Chengdu
1993 Universität Witten/ Herdecke


Gastdozenturen

1967 Universität Kampala
1971 Universität Kairo
1970 International Christian University, Tokyo
1973 Universität Bonn
1985 Universität Princeton
1986 University of California, Santa Cruz
1987 University of California, San Diego
1990 Olof Palme-Professur, Stockholm


Beratertätigkeiten u.a.

1967: Europarat; 1970: OECD; 1975 – 1976: UNCTAD; 1978: FAO; 1978/1981/1982: UNEP; 1985: UNDP; 1986: UNITAR; 1995: UNRISD und Kopenhagener Weltsozialgipfel


Beiratstätigkeiten u.a.

seit 1967: Stockholm Peace Research Institute (SIPRI);1971–1981: Max-Planck-Institut in Starnberg; seit 1982: Geneva International Peace Research Institute; seit 1983: Österreichisches Studienzentrum für Frieden und Konfliktlösungen (ÖSFK) in Stadtschlaining; seit 2000: Beiratsmitglied des Komitees für eine demokratische UNO


Mitgliedschaften

Gründungsmitglied der International Peace Research Association; European Peace Research Association; Arbeitsgemeinschaft für Friedens- und Konfliktforschung; Präsident der World Futures Studies Association (1974 – 1977)


Ehrendoktorwürden

1975 Universität Tampere, Finnland, Friedens- und Konfliktforschung
1976 Universität Cluj-Napoca (Klausenburg), Rumänien, Zukunftsforschung
1987 Universität Uppsala, Schweden, Sozialwissenschaften
1990 Soka Universität, Tokio, Frieden/ Buddhismus
1995 Universität Osnabrück, Sozialwissenschaften
1998 Universität di Torino, sociology of law
2000 Fernuniversität Hagen, Philosophie
2002 Universität Alicante, Soziologie
2006 Universität Autonoma de Puebla, Rechtswissenschaften


Auszeichnungen

1987 Right Livelihood Award (alternativer Nobelpreis) in Stockholm
1988 Norwegian Humanist Prize
1990 Socrates Prize for Adult Education
1993 Bajaj International Award for Promoting Gandhian Values
1995 Alo'ha International Award
2000 Brage Norwegian Literary Prize für seine Autobiographie
2001 Morton Deutsch Conflict Resolution Award und Norsk Sosiologforenings Hederspris (Ehrenpreis der norwegischen Gesellschaft für Soziologie)
2005 Premio Hidalgo in Madrid (Ehrung für besondere Verdienste)

Primärliteratur
Bücher

Strukturelle Gewalt: Beiträge zur Friedens- und Konfliktforschung. Hamburg: Rowohlt 1975.


Essays in Peace Research. Vol. 1- 6. PRIO monographs. Copenhagen: Ejlers 1975 - (dt. Beiträge zur Friedens- und Konfliktforschung. Reinbek b. Hamburg: Rowohlt 1975 – 1982).

Essays in Methodology: Methodology and Ideology. Vol. 1; Papers on Methodology. Vol. 2; Methodology and Development. Vol. 3.Oslo: Basic Social Science Monographs from the International Peace Research Institute 1977; 1979; 1988. (dt. Aufsätze zur Methodologie: Methodologie und Ideologie; Frankfurt/ Main: Suhrkamp 1978.)

Development, Environment and Technology: Towards a Technology for Self-Reliance. A Study. New York: UNCTAD 1978.

Development Theory: Notes for an Alternative Approach. Berlin: Wissenschaftszentrum 1985.

Poor Countries vs. Rich, Poor People vs. Rich: Whom Will the New International Economic Order Benefit? Oslo u.a.: University of Oslo u.a. 1977. (dt. In: Dieter Senghaas (Hrsg.): Kapitalistische Weltökonomie: Kontroversen über ihren Ursprung und ihre Entwicklungsdynamik. Frankfurt/ Main: Suhrkamp 1979, S. 337 - 375)

There are Alternatives! Four Roads to Peace and Security. Nottingham: Spokesman 1984. (dt. Es gibt Alternativen! Vier Wege zu Frieden und Sicherheit. Opladen: Westdeutscher Verlag 1984.)

Solving Conflicts: A Peace Research Perspective. Honolulu: University of Hawaii Institute for Peace u.a. 1989.

60 Speeches on War and Peace. Oslo: International Peace Research Institute 1990.

Mit Richard C. Vincent
Global Glasnost: Toward a New World Information and Communication Order? Cresskill, NJ: Hampton Press 1992.


Mit Erwin Koller
Nach dem Kalten Krieg: Gespräch mit Erwin Koller/ Johan Galtung. Zürich: Pendo Verlag 1993.

Human Rights in Another Key. Cambrige u.a.: Politiy Press 1994. (dt. Menschenrechte – anders gesehen. Frankfurt/ Main: Suhrkamp 1994.

Peace by Peaceful Means: Peace and Conflict, Development and Civilization. London u.a.: Sage u.a. 1996. (dt. Frieden mit friedlichen Mitteln: Friede, Konflikt, Entwicklung und Kultur. Opladen: Leske + Budrich 1998.)

On the Social Costs of Modernization: Social Disintegration, Atomie/ Anomie and Social Development. Geneva: United Nations Research Institute for Social Development 1995. (dt. Der Preis der Modernisierung: Struktur und Kultur im Weltsystem. Wien: Promedia 1997.)

Macrohistory and Macrohistorians: Perspectives on Individual, Social, and Civilizational Change. Westport, Conn. u.a.: Praeger 1997.

Die andere Globalisierung. Perspektiven für eine zivilisierte Gesellschaft. Münster: agenda Verlag 1998.


A World in Economic Crisis. Alborg University: Research Center on Development and International Relations 2002.

Neue Wege zum Frieden: Konflikte aus 45 Jahren: Diagnose, Prognose, Therapie. Minden: Bund für Soziale Verteidigung 2003.

Transcend and Transform: An Introduction to Conflict Work. London: Pluto Press 2004.

Pax Pacifica: Terrorism, the Pacific Hemisphere, Globalisation and Peace Studies. London: Pluto Press: 2005.

U.S. Glasnost: Missing Political Themes in U.S. Media Discourse. Cresskill, NJ: Hampton Press 2004.

Konflikte und Konfliktlösungen: Die Transcend-Methode und ihre Anwendung. Berlin: Homilius 2007.

50 Years: 100 Peace & Conflict Perspectives. Bergen: Kolofon Forlag u.a. 2008.



Herausgeber

1964 – 1974 Journal of Peace Research. Oslo: International Peace Research Institute (seit 1964).

Mit Charles Webel
Handbook of Peace and Conflict Studies. London u.a.: Routledge 2007.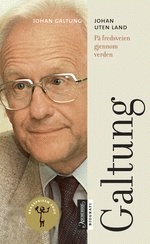 ausgewählte Aufsätze

A Structural Theory of Imperialism. In: Journal of Peace Research 8.1971, 2, S. 81 – 117 (dt. Eine strukturelle Theorie des Imperialismus. In: Senghaas, Dieter (Hrsg.): Imperialismus und strukturelle Gewalt. Frankfurt/ Main: Suhrkamp 1972, S. 29 – 104)



Autobiographie


The Shape of Things to Be. In: Krunzel, Joseph/Rosenau, James N.: Journeys through World Politics. Autobiographical Reflections of Thirty-four Academic Travelers. Lexington: Lexington Books 1989. S. 165.
Johan uten land: Pa fredveien gjennom verden. Oslo: Aschenhoug 2000.
(dt. Auf Friedenswegen durch die Welt: eine autobiographische Reiseskizze. Münster: agenda Verlag 2006.)



Bibliographien

Johan Galtung. Bibliographie. 1951 – 1990. Oslo: International Peace Research Institute 1990.



Sekundärliteratur

Bittl-Drempetic, Karl-Heinz: Wandeln statt lösen: ein Essay zur Konflikt- und Zivilisationstheorie von Johan Galtung. Nürnberg: Fränkisches Bildungswerk für Friedensarbeit 1995.

Ferdowski, Mir A.: Der positive Frieden: Johan Galtungs Ansätze und Theorien des Friedens. München: Minerva 1981.
Fischer, Dietrich: Johan Galtung: Pionier of Peace Research. SpringerBriefs on Pioneers in Science and Practice No.6. Heidelberg: Springer 2013.

Lawler, Peter: A Question of Values: Johan Galtung's Peace Research. Boulder, Col.: Rienner 1995.


Schmidt, Hajo: Johan Vincent Galtung (*1930). In: Bleek, Wilhelm/ Lietzmann, Hans J. (Hrsg.): Klassiker der Politikwissenschaft. München: C. H. Beck 2005, S. 289 – 301

Soßdorf, André: Der Gewaltbegriff bei Johan Galtung. Definition, Entwicklung und Relevanz für die deutsche Friedens- und Konfliktforschung. Saarbrücken: VDM Verlag Müller 2008.

Széll, György/ Kinkelbur, Dieter: Johan Vincent Galtung. Forschung, Erziehung und Arbeit für den Frieden. Verleihung der Ehrendoktorwürde an Johan Vincent Galtung. Osnabrück: fibre 1996.

Weizsäcker, C.F.: Die Zukunft des Friedens in Europa. München u.a.: Hanser 1990.



Festschrift

Holm, Hans-Henrik: Social Science – For What?: Festschrift for Johan Galtung. Oslo: Norwegian University Press 1980.

Galtungs Zentrum-Peripherie-Modell (1972) zur Veranschaulichung struktureller Gewalt im Weltsystem.


Debatten

Boulding, Kenneth E.: Twelve Friendly Quarrels with Johan Galtung. In: Journal of Peace Research 14. 1977, 1, S. 75 – 86




Links

Interview mit Johan Galtung bei portland: The Education of a Peacemaker
http://portland.indymedia.org/en/2003/05/264373.shtml

Interview von Spiegel Online mit Johan Galtung zu den Anschlägen des 11. September 2001
http://www.spiegel.de/politik/ausland/0,1518,157979,00.html

Essay von Johan Galtung bei polylog: Gewalt, Krieg und deren Nachwirkungen
http://them.polylog.org/5/fgj-de.htm

Literatur von und über Johan V. Galtung im Katalog der Deutschen Nationalbibliothek
http://d-nb.info/gnd/118537415

Link zu TRANSCEND INTERNATIONAL
http://www.transcend.org/

Link zum PRIO
http://www.prio.no/



MB