Kissinger, Henry A.

Henry A. (Heinz Alfred) Kissinger

Der Name bezieht sich auf Bad Kissingen und wurde von Kissingers Ur-Ur-Großvater Meyer Löb 1817 angenommen


*27.5.1923 in Fürth



Deutsch-jüdisch-amerikanischer Politikwissenschaftler und Historiker, U.S.-Staatsbürger, Professor of Government in Harvard, Klassischer Realist, Schüler von Carl J. Friedrich, William Yandell Elliott; Unteroffizier im 2. Weltkrieg; Politiker der Republikaner; Berater von Nelson Rockefeller bei dessen Präsidentschaftskampagnen 1960, 1964 und 1968; Unternehmer, Diplomat, Nationaler Sicherheitsberater und zugleich Außenminister der Präsidenten Richard Nixon und Gerald Ford; von 1969 – 1977 dominante Figur in der US-Außenpolitik;
In der US-Administration als "Taube" Gegenspieler des "Falken" Albert Wohlstetter; von 1969 – 1977 Befürworter und maßgeblicher Akteur der Entspannungspolitik gegenüber der Sowjetunion (Verhandlung des SALT I-Vertrages und des ABM-Vertrages), der Annäherung an die VR China und bei den Waffenstillstandsverhandlungen zur Beendigung des Vietnamkrieges; Vermittler des Friedensprozesses zwischen Israel und den arabischen Staaten; Friedensnobelpreisträger, zugleich sehr kontrovers beurteilt, u.a. als "Kriegsverbrecher" wegen der Beteiligung am Militärputsch in Chile 1973 denunziert.
Kissinger ist eine der wenigen Personen in der Lehre von den Internationalen Beziehungen, der zugleich die Macht und den Einfluß hatte, seine theoretischen Positionen in praktische Politik umzusetzen. Umgekehrt haben seine Erfahrungen als Politiker und die persönlichen Kontakte mit den Mächtigen der Welt sein politisches Denken beeinflußt.
Bruder von Walter Kissinger; Jugendspieler und lebenslanger Fan von Greuther Fürth, ehemals SpVgg Fürth; neben Herman Kahn, John von Neumann, Wernher von Braun, Edward Teller und Robert Strange McNamara einer der deutschstämmigen Vorbilder des Film "Dr. Seltsam, oder wie ich lernte, die Bombe zu lieben".
Werdegang
1923 geboren in Fürth als erster Sohn des Gymnasiallehrers für Geschichte und Geographie, Louis Kissinger (1887-1982) und dessen Frau Paula (1901-1998), geb. Stern, Tochter eines Viehhändlers; der zweite Sohn Walter wurde 1924 geboren
Jugendspieler bei SpVgg Fürth
1938 mit der Familie via London Auswanderung in die USA; Niederlassung im jüdischen Viertel Washington Heights, New York
1938-1940 Besuch der George Washington High School und zugleich Tätigkeit in einer Rasierpinselfabrik
1940 -1943 abendlicher Besuch des City College New York als Werkstudent, Studium des Rechnungswesens
1943 Verleihung der US-Staatsbürgerschaft
1943-1946 Militärdienst bei der U.S. Army, Ausbildung in Camp Croft, Spartanburg, S.C., Einweisung in die 84th Infantry Divison
1944 Rückkehr nach Deutschland als Soldat; Einsätze in Krefeld, Hannover und im Kreis Bergstraße; Übersetzer beim 970th Counter Intelligence Corps im Rang eines Sergeant
1945 – 1946 Mitglied des Counter Intelligence Corps in Bensheim bei Frankfurt zur Aufklärung von Kriegsverbrechen und Mitwirkung bei der Entnazifizierung
1946-1947 Lehrer an der European Command Intelligence School in Camp King, Oberursel bei Frankfurt
1946-1949 Hauptmann der Reserve des Military Intelligence Corps
1947-1952 Studium der Politikwissenschaft in Harvard
1949-1964 Ehe mit Ann Fleischer, aus der die Kinder Elizabeth und David entstammen
1950 Bachelor mit summa cum laude; Bachelor-Arbeit zum Thema "Die Bedeutung der Geschichte" (383 Seiten)
1950-1960 Berater der Behörde für Waffenentwicklung beim Joint Chief of Staff
1952 Master; Berater des Direktors des Psychological Strategy Board
1952-1969 Direktor des Harvard International Seminar (Sommerschule)
1954 Promotion, Titel der Dissertation "Peace, Legitimacy, and the Equilibrium: A Study of the Statesmanship of Castlereagh and Metternich" (1957 veröffentlicht)

1954-1969 Mitglied des Lehrkörpers der Harvard University, Department of Government und Center for International Affairs
1955 Berater des National Security Council´s Operations Coordinating Board
1955-1956 Study Director in Nuclear Weapons and Foreign Policy des Council on Foreign Relations
1956-1958 Direktor des Special Studies Project, Rockefeller Brothers Fund
1957-1960 Direktor des Harvard Center for International Affairs
1957 Associate Professor; Berater des New Yorker Gouverneurs Nelson D. Rockefeller; Veröffentlichung von "Nuclear Weapons and Foreign Policy" als Plädoyer einer Strategie der "flexible response" statt "massive retaliation" gegenüber der Sowjetunion
1958-1971 Direktor des Harvard Defense Studies Program
1959 Tenure in Harvard
1961-1968 Berater der US-Agentur für Waffenkontrolle und Abrüstungsfragen
1962 Full Professor in Harvard
1964 Scheidung von Ann Fletcher

1965 Berater im Außenministerium, u.a. zum Vietnamkrieg

1968-1977 Mitglied der US-Regierung

1969-1975 Nationaler Sicherheitsberater unter Präsident Nixon
Juli und Oktober 1971 geheime Reisen nach China, um in Verhandlungen mit Zhou Enlai die China-Reise Nixons und die Aufnahme diplomatischer Beziehungen zwischen den USA und China vorzubereiten; Reise in die Sowjetunion zur Vorbereitung des ersten Abkommens zur Rüstungsbegrenzung; später Unterhändler des SALT 1-Vertrags und des ABM-Vertrags zur Begrenzung Strategischer Raketen

1971 Mitwirkung bei der Vereinbarung über den Viermächtestatus von Westberlin
1973 geheime Verhandlungen mit Nordvietnam über eine Friedensvertrag zur Beendigung des Vietnamkrieges; Verleihung des Friedensnobelpreises zusammen mit dem Nordvietnamesen Le Duc Tho

1973-1977 Außenminister unter den Präsidenten Nixon und Ford

1973-1974 Vermittlung zur Beendigung des Yom Kippur-Krieges und des Friedensprozesses zwischen Israel und den arabischen Ländern

1974 Heirat von Nancy Maginnes

1977 mit Amtsantritt der Carter-Administration Ausscheiden aus der Regierung; Angebot eines Lehrstuhls an der Columbia University aufgrund studentischer Proteste zurückgezogen; stattdessen Übernahme einer Professur für Internationale Diplomatie am Center for Strategic and International Studies der Georgetown University, Washington D.C.
1978 Vorsitzender des Board of Directors der North American Soccer League
1979-1982 Veröffentlichung der Memoiren über die Jahre 1968-1973
1982 Gründer und Vorsitzender der politischen Beratungsfirma "Kissinger Associates" mit Hilfe eines Kredits der Bank E.M. Warburg, Pincus and Co.
1983-1985 Vorsitzender der National Bipartisan Commission on Central America
1984-1990 Mitglied des Foreign Intelligence Advisory Board des US-Präsidenten
1986-1988 Mitglied der Commission on Integrated Long-term Strategy oft he National Security Council and Defense Department
1995-2001 Mitglied des Borad of Directors, Freeport-McMoRan (multinationaler Kupfer- und Goldproduzent)
1998 Ehrenbürger der Stadt Fürth und Ehrenmitglied von Greuther Fürth
1999 Mitglied des Boards of Directors, Gulfstream Aerospace
2002 kurzzeitig Vorsitzender des Ausschusses zur Untersuchung der Angriffe des 11. September
2000-2006 Vorsitzender des Board of Trustees, Eisenhower Fellowships
Mitgliedschaften
Aspen Institute
Bilderberg Group
Bohemian Club
Council on Foreign Relations
Wissenschaftlicher Beirat der Otto-von-Bismark-Stiftung (1996)
Republikanische Partei
Auszeichnungen
1958 Woodrow Wilson Award
1973 Friedensnobelpreis
1976 Großkreuz des Verdienstordens der Italienischen Republik
1977 The Presidential Medal of Freedom
1980 National Book Award in History
1986 Medal of Liberty
1987 Karlspreis
1988 Ehrendoktor der Universität Erlangen-Nürnberg

1995 Honorary Knight Commander of the Order of the British Empire

1996 Franz-Josef-Strauß-Preis

1998 Tomás-Garrigue-Masary-Orden I. Klasse

1998 Ehrenbürger der Stadt Fürth und Ehrenmitglied der SpVgg Greuther Fürth mit Dauerkarte auf Lebenszeit

2000 Sylvanus Thayer Award der United States Military Academy, West Point

2005 Bayerischer Verdienstorden

2005 Gold Medal at the annual Queen Sofia Spanish Institute Gold Medal Gala
2006 Woodrow Wilson Award for Public Service, Woodrow Wilson Center of the Smithsonian Institute
2006 Dwigt D. Eisenhower Medal for Leadership and Service
2007 Verdienstmedaille des Landes Baden-Württemberg
2007 Hopkins-Nanjing Award für Verdienste zur Wiederherstellung der chinesisch-amerikanischen Beziehungen
2007 Grand Marshal of the German-American Steuben Parade, New York City
2009 Ewald von Kleist Preis der Münchener Sicherheitskonferenz
2011 McCloy Lifetime Achievement Award des American Council on Germany
2012 Israeli Presidential Award
Schriften
Bücher
A World Restored: Metternich, Castlereagh and the Problems of Peace 1812-22. Boston: Houghton Mifflin 1957 (deutsch: Großmachtdiplomatie. Von der Staatskunst Castlereaghs und Metternichs. Düsseldorf: Econ 1962). (= Diss. von 1954)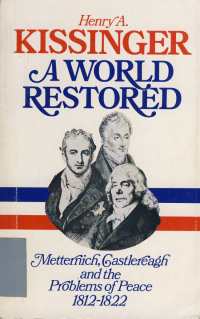 Nuclear Weapons and Foreign Policy. New York: Harper & Brothers 1957 (deutsch: Kernwaffen und Auswärtige Politik. München: Oldenbourg 1959).
The Necessity for Choice: Prospects of American Foreign Policy. New York: Harper & Brothers 1960 (deutsch: Die Entscheidung drängt. Grundfragen westlicher Außenpolitik. Düsseldorf: Econ 1961).
The Troubled Partnership: A Re-appraisal of the Atlantic Alliance. New York: McGraw-Hill, published for the Council on Foreign Relations 1965 (deutsch: Was wird aus der westlichen Allianz? Wien, Düsseldorf: Econ 1965).
American Foreign Policy: Three Essays. New York: W.W. Norton 1969. (deutsch: Amerikanische Außenpolitik. Analysen und Tendenzen. Düsseldorf: Econ 1969).
For the Record: Selected Statements, 1977-1980. Boston: Little, Brown and Co. 1981. (deutsch: Die weltpolitische Lage. Reden und Aufsätze. München: C. Bertelsmann 1983).
Observations: Selected Speeches and Essays 1982-1984. Boston: Little, Brown and Co. 1985 (deutsch: Weltpolitik für Morgen. Reden und Aufsätze 1982-1985. München: C. Bertelsmann 1985).
Das Gleichgewicht der Großmächte. Metternich, Castlereagh und die Neuordnung Europas 1812-1822. Zürich: Manesse 1986. (Neuaufl. der Diss.)
Die sechs Säulen der Weltordnung. Berlin: Siedler 1992. (Artikelsammlung, die 1987-1992 in Washington Post, Los Angeles Times, New York Post, Newsweeks bzw. auf Deutsch in der Welt am Sonntag erschien sind)
Diplomacy. New York: Simon & Schuster 1994 (deutsch: Die Vernunft der Nationen. Über das Wesen der Außenpolitik. Berlin: Siedler 1994).
Does America Need a Foreign Policy? Towards a Diplomacy for the 21st Century. New York: Free Press 2002 (deutsch: Die Herausforderung Amerikas. Weltpolitik im 21. Jahrhundert. München: Propyläen 2002).
Ending the Vietnam War: A History of America´s Involvement in and Extraction from the Vietnam War. New York: Simon & Schuster 2003.
On China. New York: Penguin 2011 (deutsch: China. Zwischen Tradition und Herausforderung. München: C. Bertelsmann 2011).
World Order. New York: The Penguin Press 2014 (deutsch: Weltordnung. München C. Bertelsmann 2014).
Aufzeichnungen
William Burr (Hrsg.), Kissinger Transcripts: The Top Secret Talks with Beijing and Moscow. New York: Free Press 1999.
Crisis: The Anatomy of Two Major Foreign Policy Crises: Based on the Record of Henry Kissinger´s Hitherto Secret Telephone Conversations. New York: Simon & Schuster 2003.
Herausgeber
Problems of National Strategy: A Book of Readings. New York: Frederick A. Praeger 1965.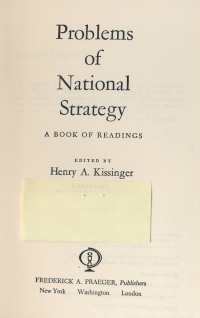 Aufsätze
Kissinger ist Autor zahlreicher Aufsätze, die vielfach in den o.g. Sammelbänden wieder abgedruckt wurden.
Renewing the Atlantic Partnership: Report of an Independent Task Force. New York: Council on Foreign Relations 2004.
Frei Daniel (Hrsg.), Europa – ein Kontinent im Wandel. Beiträge von Henry A. Kissinger. Zürich: Schulthess 1980.
Debatte
Mit Fareed Zakaria, Niall Ferguson, David Daokui Li, Wird China das 21. Jahrhundert beherrschen? Eine Debatte. München: Pantheon 2012.
Autobiographie
The White House Years. Boston: Little, Brown and Co.1979 (deutsch: Memoiren. Bd. 1: 1968-1973. München: C. Bertelsmann 1979).
Years of Upheaval. Boston: Little, Brown and Co. 1982 (deutsch: Memoiren. Bd. 2: 1973-1974. München: C. Bertelsmann 1982).
Memoiren. Bd. 1: 1968-1970; Bd. 2: 1970-1971; Bd. 3: 1972-1973. München: Goldmann 1981.
Years of Renewal. New York: Simon & Schuster 1999 (deutsch: Jahre der Erneuerung. Erinnerungen. München: C. Bertelsmann 1999).
Sekundärliteratur
Berger, Ralph, Die Normalisierung der diplomatischen Beziehungen zwischen den USA und der VR China, 19669-1979. Die geheimen Verhandlungen von Henry A. Kissinger mit Mao Zedong, Zhou Enlai und Deng Xiaoping. Frankfurt: Peter Lang 2003.
Berman, Larry, No Peace, Mo Honor: Nixon, Kissinger, and Betrayal in Vietnam. New York: Free Press 2001.
Bundy, William, The Tangled Web: The Making of Foreign Policy in the Nixon Presidency. New York: Hilland Wang 1999.
Dallek, Robert, Nixon and Kissinger: Partners in Power. London: Lane 2007.
Del Pero, Mario, The Eccentric Realist: Henry Kissinger and the Shaping of American Foreign Policy. Ithaca, N.Y.: Cornell University Press 2010.
Ferguson, Niall, Henry Kissinger: A Life. New York: Penguin Press 2012.
Fresco-Kautsky, Edith J., Henry A. Kissinger. Historiker und Staatsmann. Köln: Böhlau 1983.
Fuchs, Stephan, "Dreiecksverhältnisse sind immer kompliziert". Kissinger, Bahr und die Ostpolitik. Hamburg: Europäische Verlagsanstalt 1999.
Gomes, Bernardino, Carlucci versus Kissinger: The US and the Portuguese Revolution. Lanham, MD: Rowman & Littlefield 2011.
Graebner, Norman A., Henry Kissinger and American Foreign Policy: A Contemporary Appraisal. In: Conspectus of History 1.1975,2. Unter: http://libx.bsu.edu/cdm4/document.php?CISOROOT=/ConspectusH&CISOPTR=587&REC=1
Graubard, Stephen Richards, Kissinger: Portrait of a Mind. New York: W.W. Norton 1973. (deutsch: Kissinger. Zwischenbilanz einer Karriere. Hamburg: Hoffmann & Campe 1974).

Hanhimäki, Jussi M., "Dr. Kissinger" or "Mr. Kissinger"? Kissingerology, Thirty Years and Counting. In: Diplomatic History 27.2003, 5. S.637-676.
Hanhimäki, Jussi M., The Flawed Architect: Henry Kissinger and American Foreign Policy. Oxford: Oxford University Press 2004.
Hersh, Seymour, The Price of Power: Kissinger and Nixon in the White House. New York: Summit Books 1983.
Hitchens, Christopher, The Trial of Henry Kissinger. London: Verso 2001 (deutsch: Die Akte Kissinger. Stuttgart: DVA 2001).
Home, Alistair, Kissinger´s Year, 1973. London: Phoenix 2010.
Igazságot, Ismerök Az, Kissinger. Person, Politik, Hintermänner. Köln: VZD 1974
Isaacson, Walter, Kissinger: A Biography. New York: Simon & Schuster 1992 (deutsch: Kissinger. Eine Biographie. Berlin: Ed. Q 1993.)
Kalb, Marvin L./Kalb. Bernard, Kissinger. Boston: Little, Brown 1974. (deutsch: Kissinger. Die definitive Biographie. Frankfurt: Ullstein 1974).

Klein Bluemink, Geert Jan, Kissingerian Realism in International Politics: Political Theory, Philosophy and Practice. Diss. Leiden 2000.
Klitzing, Holger, The Nemesis of Stability: Henry A. Kissinger´s Ambivalent Relationship with Germany. Trier: WVT 2007.
Komine, Yukimori, Secrecy in US Foreign Policy: Nixon, Kissinger and the Raprochement with China. Aldershot: Ashgate 2008.
Kurz, Evi, Die Kissinger-Saga. Zwei Brüder aus Fürth. Fürth: TimeLine Film 2007 (engl.: The Kissinger Saga: Walter and Henry Kissinger: Two Brothers from Fuerth, Germany. London: Weidenfeld & Nicolson 2009).
Lurn Van Loi/Nguyen Anh Vu, Le Duc Tho – Kissinger Negotiations in Paris. Hanoi: Giói Publ. 1996.
Mohan, Shannon E., "Memorandum for Mr. Bundy": Henry Kissinger as Consultant to the Kennedy National Security Council. In: Historian 71.2009,2. S. 234-257.
Morris, Roger, Uncertain Greatness: Henry Kissinger and American Foreign Policy. New York: Harper and Row 1977.

Paolucci, Henry/Paolucci, Anne, Public Image, Private Interest: Kissinger´s Foreign Policy Strategies in Vietnam. Smyrna, Del.: Groffon House 2002.
Qureshi, Lubna Z., Nixon, Kissinger, Allende: U.S. Involvement in the 1973 Coup in Chile. Lanham, Md.: Rowman & Littlefield 2009.
Randolph, Stephen P., Powerful and Brutal Weapons: Nixon, Kissinger, and the Eastern Offensive. Cambridge, Mass.: Harvard University Press 2007.
Schlafly, Phyllis, Kissinger on the Couch: Arlington House Publishers 1974.
Schulzinger, Robert D., Henry Kissinger: Doctor of Diplomacy. New York: Columbia University Press 1989.
Serewicz, Lawrence W., America at the Brink of Empire: Rusk, Kissinger, and the Vietnam War. Baton Rouge: Louisiana State University Press 2007.
Shawcross, William, Sideshow: Kissinger, Nixon, and the Destruction of Cambodia. 2. Aufl. New York: Cooper Square Press 2002 (deutsch: Schattenkrieg. Kissinger, Nixon und die Zerstörung Kambodschas. Berlin: Ullstein 1980).
Siniver, Asaf, Nixon, Kissinger, and U.S. Foreign Policy Making: The Machinery of Crisis. Cambridge: Cambridge University Press 2008.
Stoessinger, John G.: Henry Kissinger: The Anguish of Power. New York: Norton 1976.

Suri, Jeremi, Henry Kissinger and the American Century. Cambridge, Mass.: Belknap Press of Harvard University Press 2007.
Taubman, Philip, The Partnership: Five Cold Warriors and Their Quest to Ban the Bomb. New York: HarperCollins 2012.
Thornton, Richard C., The Nixon-Kissinger Years: Reshaping of America´s Foreign Policy. St. Paul, Min.: Paragon House 2001. 2. Aufl.
Tucker, Nancy Bernkopf, Taiwan Expendable? Nixon and Kissinger Go to China. In: The Journal of American History 92.2005, 1. S. 109-135..
Walton, Hanes/Stevenson, Robert Louis/Rosser, James Bernard (Hrsg.), The African Foreign Policy of Secretary of State Henry Kissinger: A Documentary Analysis. London: Lexington Books 2007.
Filme
Back Door Chanels: The Price of Peace. USA 2009.
Der Fall Kissinger. Kriegsverbrecher und Nobelpreisträger. Dokumentation.
Ferguson, Niall, Kissinger. USA 2011.
Jarecki, Eugene, The Trials of Henry Kissinger. Frankreich 2002 (deutsch: Angeklagt: Henry Kissinger).
Kurz, Evi, Die Kissinger-Saga. Henry und Walter: Zwei Brüder aus Fürth. Deutschland, USA 2006.
Kurz, Evi, Die Brückenbauer Henry Kissinger, Fritz Stern und Lord George Weidenfeld. Jüdische Emigranten und die Wiedervereinigung. Deutschland, USA, Israel, England, Österreich, Schweiz 2010.
Lamby, Stephan, Henry Kissinger. Geheimnisse einer Supermacht. Interview. Deutschland, USA 2008.
Sonstiges
Akademische Feier zur Verleihung des Ehrendoktorwürde an Henry A. Kissinger am 19.März 1988. Erlangen: Universität Erlangen-Nürnberg 1990.
Zum Weiterlesen
Schmidt, Helmut, On Men and Power: A Political Retrospective. Ne w York: Random House 1989. (Vorwort von Henry Kissinger)
Links
Offizielle Website von Henry A. Kissinger unter http://www.henryakissinger.com/
Annotated Bibliography for Henry Kissinger from the Alsos Digital Library for Nuclear Issues unter http://alsos.wlu.edu/qsearch.aspx?browse=people/Kissinger,+Henry
Henry Kissinger auf der Internet Movie Database unter http://www.imdb.com/name/nm0457425/
Henry Kissinger - Advokat der Fluchtburg unter http://www.br.de/themen/bayern/inhalt/geschichte/juden-bayern-juedisches-leben146.html
Das Projekt Kissinger Watch unter http://www.icai-online.org/45365,Index.html
Christopher Hitchens, Die Akte Kissinger unter http://www.lettre.de/content/christopher-hitchens_die-akte-henry-kissinger-i-teil
Henry Kissinger page unter http://www.thirdworldtraveler.com/Kissinger/HKissinger.html
UM